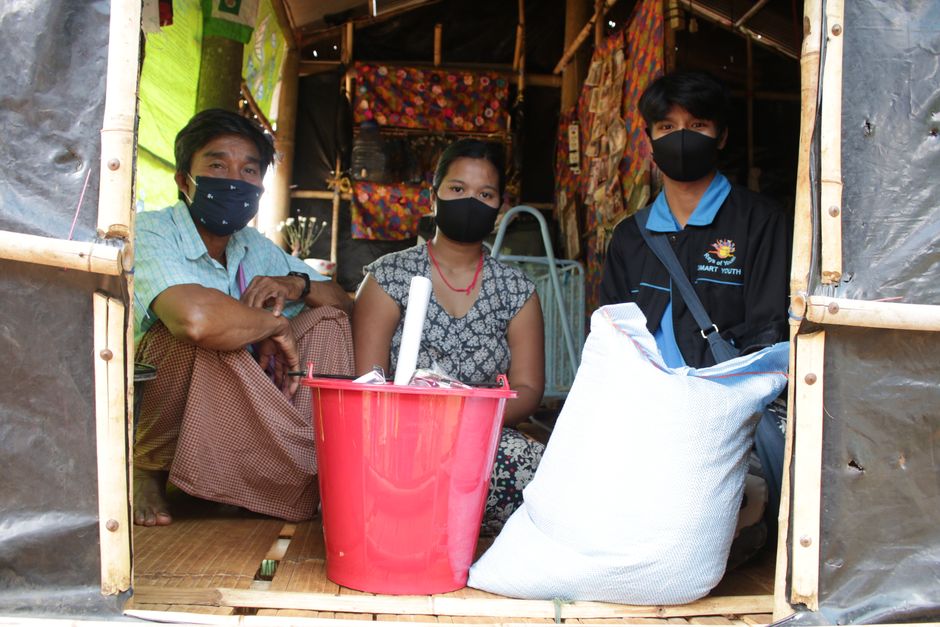 Below is a field report from Ann, one of the tireless volunteers at Help without Frontiers (HwF). HwF is currently providing emergency food packages to displaced people from Myanmar in Thailand who have seen their income being wiped out in the wake of COVID-19. (You can read more here: COVID-19 Response)
Today's food delivery mission took us to the Ban Sam Yod Doi community in the Phop Phra District, where 40 families were given the Food Sets for Life. Two groups of HwF staff departed from Mae Sot at 8 o'clock in the morning and completed the mission at 2 o'clock in the afternoon. There are approximately 200 families in this community. At this stage we've provide assistance to 40 families and the vulnerable members within them.
Most of the migrant families work in agriculture. Most of the employers are Hmong. The wage is usually 150 baht (4.5 CHF) per day. During this period, the average income has decreased by a lot. Many have gone from having many days of work per month, to only having 10-15 days a month.
Many families are having difficulties feeding everyone with their decreased income. We encountered many large families with many children. Many of these children do not go to school. Some of them will never do so. We met one family with children aged 6, 8 and 12 who have never went to school because they have to move to the employer's farm. Relocation for work purposes becomes an obstacle to attending school. Many parents need to move their children according to where their employer needs them. Some farms are very isolated with no school nearby that children can attend. We met many young mothers too.
Tomorrow, the team will rest for 1 day and come back to carry on with the distribution on Thursday and Friday.
Until today we have delivered "Food Sets for Life" to 661 families. Along with the distribution we have collected 359 families surveys. The total number of beneficiaries of the distribution is 1,451. The average number of family members in a family is 4.04. We counted 686 children amounting to about 47.28% of the total population. Thus we can conclude that the Food Sets for Life are largely helping children, who we believe shouldn't be starving or skipping essential meals.
Thank you to everyone who is part of the mission and supports out work.
You can help Help Without Frontiers with their emergency response to the COVID-19 crisis. For donations, please see our dedicated page on how you can support them: COVID-19 Response. If you are not in a position to donate, please consider sharing this message on social media to spread the word.