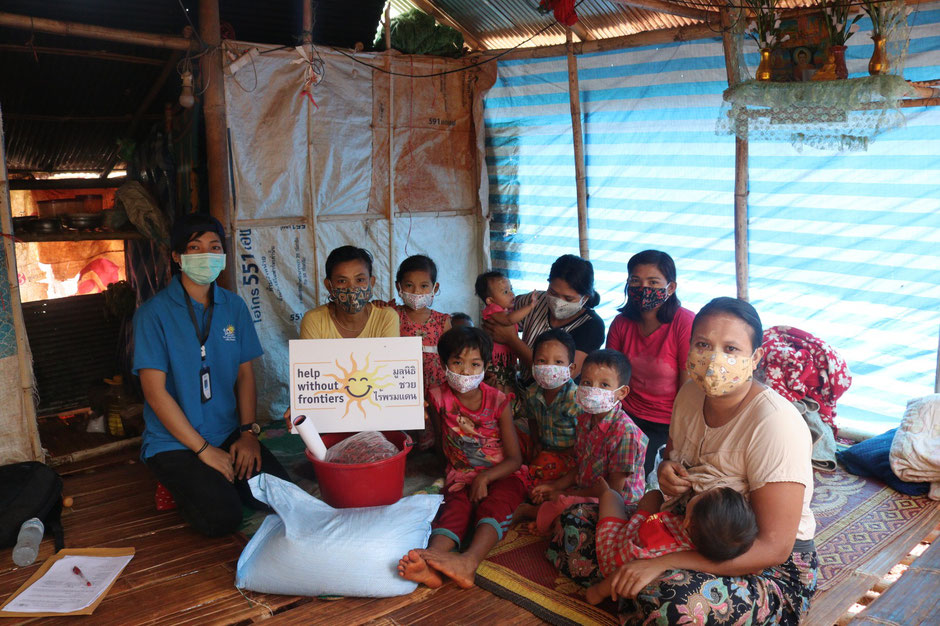 Below is a field report from Ann, one of the tireless volunteers at Help without Frontiers (HwF). HwF is currently providing emergency food packages to displaced people from Myanmar in Thailand who have seen their income being wiped out in the wake of COVID-19. (You can read more here: COVID-19 Response)
On the first day of Food Distribution, we made our way to the area for meeting monks, where we divided ourselves into three teams and provided  for 70 vulnerable families in two communities.
For families in Myanmar, including the subset that are Muslim, living conditions were overall poor and densely populated. The families we assisted in the first round were all vulnerable families with many children, elderly and sick family members, as well as single mothers. 
From today, the team brought back many stories of the families' lived experiences and developed a better understanding of the challenges they had faced. Many families had to skip meals; some ate every other meal. Those that had all their meals did so at the price of being in debt and accumulating credit that will take quite some time to pay back. 
There were also issues of drug addiction and health. Many parents could not afford the ride to pick up regular prescriptions. Some families that had been receiving 150 Baht  per day in wages everyday have been faced with reduced income since the COVID-19 crisis began earlier in the year. They now have less than 10 days of work per month. Many have also encountered issues with their employers only paying wages when there are buyers for the agricultural products. Of greatest concern is the impact on extremely vulnerable families. For instance, three families with single mothers all live together in one house. There are four adults and eight children. Only two adult mothers have incomes, while the rest are dependent on them. Employment has become more uncertain, and there are days without work. A slight relief is the fact that some families can still grow vegetables. Tears fell from a mother eyes when she received the rice from us and thanked us for lending a hand. This does not include the family with a child sick with polio, a physically disabled father, and a mother who had just been in an accident.
But among the sad stories, there were also happier ones. In our educational support program, our officers helped facilitate the process for parents to save up and create a fund for future uses. Children whose parents send them to Thai schools are able to take Burmese  language classes every evening, with the hope that one day, when they return to Myanmar, they will be able to communicate fluently. 
Our officers noted that initially, when students came to school, there were no toilets, so they requested parents to save up funds to build one. A toilet was built, and it was funded by the 30-Baht-a-month that parents saved. Today, this toilet serves as a shared facility for the 8-9 families that live in the area. Having a sufficient number of toilets is also a major challenge. It was found that there are not enough toilets in the community, and not every household has one.
The main conclusion for us today is that working with vulnerable families can make a difference. Many ask whether they would receive help, while others tell us to come back again. We have definitely witnessed the difficulties they faced and know that every family deserves our help. 
In sharing this experience, we'd have to take a deep breath and think about our next steps. 
The first day was physically tiring. We are meeting now and planning how to do better tomorrow. Our goal tomorrow is to divide into three teams to reach three communities, consisting of 184 families. We'll also have help from youth and volunteers in the communities.
---
You can help Help Without Frontiers with their emergency response to the COVID-19 crisis. Please see our dedicated page on how you can support them: COVID-19 Response